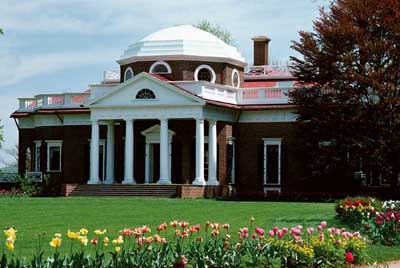 A celebration of
Monticello
and fine wine. Wouldn't Thomas Jefferson be proud? Mark your calendar and plan to attend! Saturday, September 18, 2010, Monticello will be hosting a very special early fall wine festival to celebrate the legacy of wine making in Virginia and the opening of Mr. Jefferson's restored wine cellar.
Monticello's invitation to the event:
"Join us for an unforgettable evening of fine wine and live music. Sample the region's best wines on Monticello's beautiful West Lawn while enjoying the rare opportunity to stroll around the gardens after hours and learn about Jefferson's passion for wine and his recently restored wine cellar. Local wine experts will be on hand to answer questions about our region's finest wines and how they compare to the vintages that Jefferson enjoyed."
The
Inn at Sugar Hollow Farm
has partnered with another bed and breakfast to reserve a special VIP table in the shadow of the mansion for this year's event. The additional benefits for your enjoyment of the VIP table will be gourmet local cheeses from Everona Dairy and Caromont Farm, meat, freshly baked breads, three bottles of local wine and dessert.
In addition, you will be treated to tastings from several local wineries, a tour of the mansion, and a special tour of Jefferson's new wine cellar with the restoration expert.Your complimentary Monticello wine glasses will be a fine memento of your visit.
We invite you to stay at the Inn at Sugar Hollow Farm and receive our package for this festive celebration, which includes:
* Two nights in a luxurious room with a queen-size bed
* A full, homemade country breakfast each morning
* A bottle of local wine and complimentary glasses
* A free tasting and tour at one of our fine wineries during the day on Saturday, September 18
* The VIP table presentations, house and wine cellar tour, plus wine tasting at Monticello
from 6-9 PM.
The package cost is $695.00 per couple. All taxes and gratuities are included. To reserve your room with us and a space at the VIP table contact us at 1-866-566-7388 or book online through our website noting Monticello Wine Festival Package in the "Special Needs" section of the reservation form.